Use these 6 tips today
"Oh no! The torch needs repair again…"
"Oh no! There went another contact tip…"
Welding machine breakdowns are always inconvenient.
They interrupt your work and affect your efficiency.
The two exclamations above, however, are widely different:
Replacing torch and hose is more expensive and time-consuming than replacing contact tips.
You may even choose to submit the complete torch for repair although the repair and cost is not necessary.
A contact tip on the other hand is an inexpensive and easily replaceable wear part. If the welder has a handful within reach, he may have to interrupt his work for less than a minute.
Whether you have 2 or 200 welding machines, regular maintenance pays off.
Here are six tips from IWS Michael Andersen to you and your colleagues.
Learn how to easily and efficiently maintain your welding equipment, ensuring longer service life and improving your company's ROI.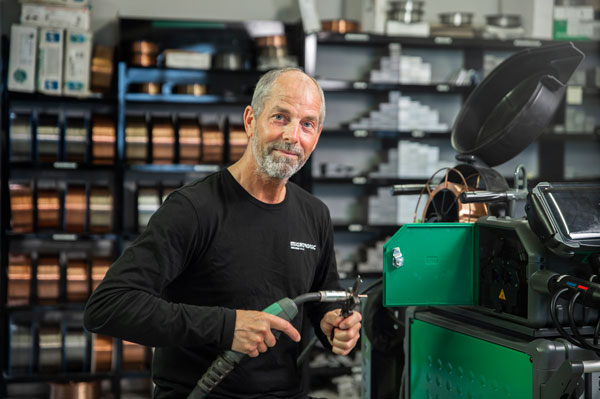 Michael Andersen, International Welding Specialist at Migatronic
Let welders be in charge of machines
You may entrust welders with the responsibility for maintaining the welding machines they use:
- Make welders responsible for replacing contact tips, liners and other wear parts in a specific welding machine. It only requires a little extra attention from the welder, but it will extend the service life of the machine remarkably.
Keep liners clean
During welding, dirt will pile up on the steel neck in the liner. A lot of dirt will affect wire feeding and result in an unstable arc. That is why keeping liners free from dirt is a good idea:
- It is easy to loosen and remove the dirt from the liner using compressed air. If the liner is dirty and you tighten the feed roller system too firmly, it can create instability in the arc. It not only wears the liner, which has to be replaced over time, it also has a negative effect on the welding process.
Replace contact tips
Contact tips can burn down but are easily replaceable:
- A contact tip is an inexpensive wear part but typically, works managers replace the torch, perhaps because they think it is faster, or perhaps they do not know how to replace wear parts. In fact, replacing the contact tip is both faster and less expensive.
Improve ROI using the right type of cooling
Long welding sequences at high amperages increase the risk of overheating, and overheating wears the welding machine. That is why you should carefully consider whether to invest in water-cooled or air-cooled welding machines:
- If you weld at a relatively low amperage for a relatively short time, air-cooling may be sufficient. If on the other hand you weld for a long time at a high amperage, water-cooling may be necessary, because it has the greatest cooling effect. Correct cooling helps maintain torch and hose, contact tips and liners. It extends the service life of the machine and increases the company's ROI.
Update machine software
Many welding machines are based on software, and you can download software updates free of charge at our website. Regular software update is an easy way to future-safeguard your welding machine and your investment:
- Updates improve the performance of the welding machine, make it faster, more precise or more user-friendly. The machine follows the technological development and remains maintained. Downloading software is easy – just follow the guidelines on the website.
Find the latest Migatronic software here
Benefit from a service agreement
If you want to make the most of your welding machine, you can benefit from a service agreement, which most Authorised Service Partners offer. It ensures regular maintenance and software update:
- Most welding machines must be validated once a year, and service check-ups can be carried out at the same time. Regular service check-ups reduce the risk of breakdowns and downtime and may even extend the warranty period.